About Us
Clayton is a trademark of clothing made specifically for men. Established from an ethos of combining style at an affordable price. Our slogan, Democratic Luxury is our vision, a concept that offers a smart, low-cost product made with attention to quality and style with international appeal. We have locations throughout Italy, in some of the most important and prestigious shopping malls in the country. Through the opening of our Flagship Stores in Corso Buenos Aires and via Torino in Milan, via Ugo Bassi in Bologna and Corso Umberto I in Pescara, we aim to consolidate the presence of our brand in the major historical centers and in the main fashion streets. An international expansion strategy is being developed. In the meantime, we can reach new customers utilising our e-commerce platform, we are able to distribute our brand all over Europe. We aspire to keep close to our customers in all possible ways: through our e-shop, the use of social media (Facebook, Twitter, Instagram, Pinterest), as well as via updates on our blog and YouTube channel. We very much want to hear from our customers so we can respond to their feedback. We don't just want to dress our customers, but also provide incentives, encourage their imagination and be a source of inspiration, growing with them and responding to their needs and requirements.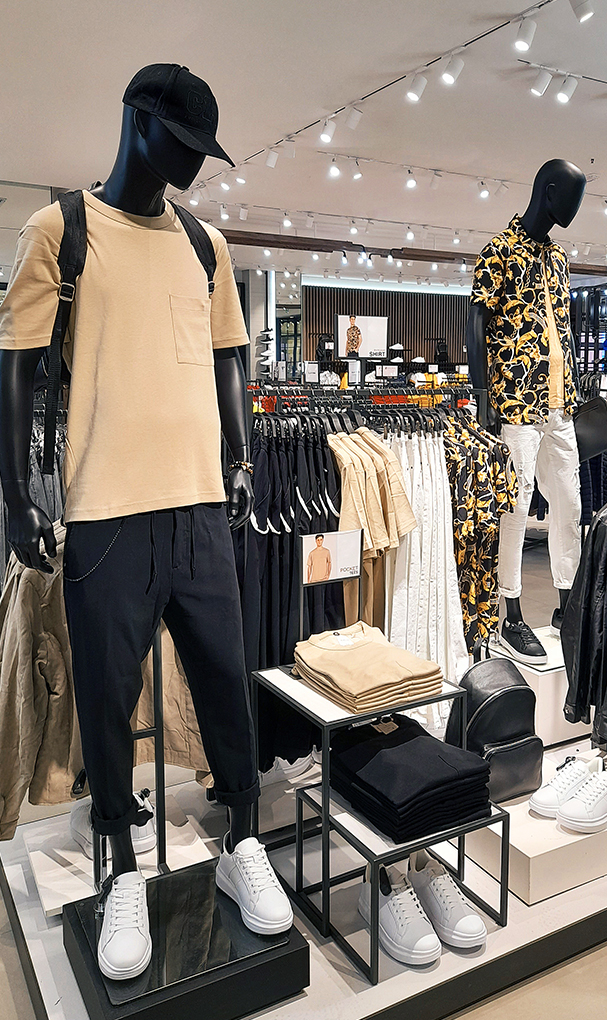 Style
Our lines of clothing, footwear, perfumes and accessories are inspired by urban international culture collected from the main high streets, trade fairs and vintage clothing markets. Our customers are at the centre of our development, we design for the students, who like to wear on trend clothes but shop on a budget and young professionals starting out in the world of work, who need to achieve a smart casual balance, and wish to choose a brand designed to meet their needs for every occasion.
Our attention to design detail is also reflected in our shop layout, the new store concept best expresses the spirit of the Clayton trademark through an unforgettable shopping experience that takes place inside a loft in a metropolis (it could be Milan, Paris, London or New York), occupied by intelligent enterprising young people, who love music, are social media and new technologies fans. Our showrooms are stimulating and attractive spaces with rock and jazz records displayed on the walls, musical instruments, books and international magazines. The environment created is of a contemporary, minimalist, design with complimentary modern colours lighting and graphics, to allow our customers the freedom to roam and view our collections.